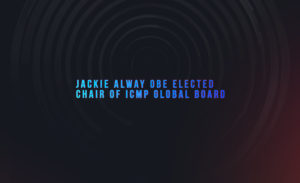 Jackie Alway OBE Elected Chair of ICMP Global Board
First Woman Elected to Post
20 May 2021 – ICMP the global trade body for the music publishing industry, has made new appointments to its Board Executive following its annual processes.
• Chair:  Jackie Alway OBE (Executive Vice President, Universal Music Publishing and Director at ICMP's UK national trade association member The MPA) has been appointed next Chair of the ICMP Board. The baton passes from Chris Butler, appointed in 2017.
• Vice Chairs: Jo Smith (International Director, Warner Chappell Music) and Niclass Bjӧrlund (Director of ICMP's Swedish national trade association Musikförläggarna).
• Secretary: Ralph Peer II (Executive Chair, peermusic and Board Director at ICMP's US trade association member The National Music Publishers Association).
• Treasurer: Kathleen Marsh (CEO, Music Notes and Director of The Music Publishers Association of the USA).
Chris Butler (Group Director Global Rights Development, Wise Music Group and Director at UK national trade association The MPA) has served as ICMP Chairman for 4 years will continue as an elected ICMP Board Director.
The appointees take up office 3 June, following ICMP's 2021 General Assembly the previous day. The ICMP Board maintains its 50/50 composition of Major and Independent music company Execs and includes Directors from 12 national trade associations across 4 continents.
ICMP Board Chairman Chris Butler said: "It has been a pleasure and privilege to have chaired ICMP for the past four years. Much has been achieved for which
my thanks go to my fellow directors and the ICMP Secretariat. Looking forward Jackie is an outstanding executive and colleague, and I congratulate her as she begins her term as our chair."
ICMP Board Chair-designate Jackie Alway OBE said: "I am truly honoured to have been elected as the first woman Chair in ICMP's history and thank my fellow Board members for this privilege. I am looking forward to our continued partnership across the publishing community – especially with our independent company members – and working with the talented Executive in the service of our community and the creators we represent. Many thanks to Chris for his invaluable contributions to ICMP during his four years as Chair. While there is always more to do, so much has been achieved during his tenure. With the collective commitment of all involved, including our hard-working CEO and management team, I am confident we are ready for the challenge ahead".
ICMP Director General John Phelan said: "My congratulations to all our colleagues on their appointments. Our industry extends especial thanks to Chris for
his dedication to driving our industry forward over so many years as Chairman. Looking ahead, we will much value his continuing input to the Board. As future Chair, Jackie will bring the characteristic superb energy and expertise we see day in, day out. We're excited about working together in this new role to deliver ICMP's daily mission – growing the value of music and defending the rights of music publishers and creator partners worldwide."
ABOUT
ICMP is the global trade body representing the music publishing industry worldwide.
ICMP works on behalf of Majors, Indies and 64 different national trade associations across 6 continents, representing
more than 90% of the world's published music.
Our industry is the nexus between music creation and markets – investing in songwriters and composers of all genres
worldwide, then bringing music to audiences via:
• Digital (>80 million works across almost 800 streaming, app and download services worldwide)
• Broadcast (TV, radio, movie etc.)
• Live
• Print
• Physical (Vinyl, CD etc.)
INFO/COMMENT/INTERVIEW LOGISTICS
_______________________
secretariat@icmp-ciem.org / Almudena Velasco / +32 (0) 490 11 48 83